Want a free photo booth for your venue, bar, brewery or distillery?
Check out our sister company, Photo Bang, which is run by Chipper Booth's creator and founder: www.photobang.co.
Where to find our photobooths (More at www.photobang.co)
Retro photo booth conversion
The Hopper
Horizontal woodgrain finish, with hand cut tile design floor, squiggly and blue or red curtain backdrop and sparkly gold ceiling, branded on all sides, including top sign and gloss back with logo. 4 photos per strip with free digital copies. Joyride Brewing is the hottest spot in Edgewater, Colorado. Hop on in and quaff a tasty brew!
Location: Joyride Brewing, 25th & Sheridan Blvd, right alongside Sloan's Lake
Digital photo pickup site: joyride.chipperbooth.com
Inspired by Andy Warhol
Andy
This booth was completed in November of 2014 and features two prints for $4, and resides at Mile High Spirits, at 22nd & Lawrence in downtown Denver. It is a refurbished Polaroid Photo Booth originally from the floppy disk era. It is wrapped in blackened Legno woodgrain and features a polka dot interior.
Looking for the digital photo pickup site?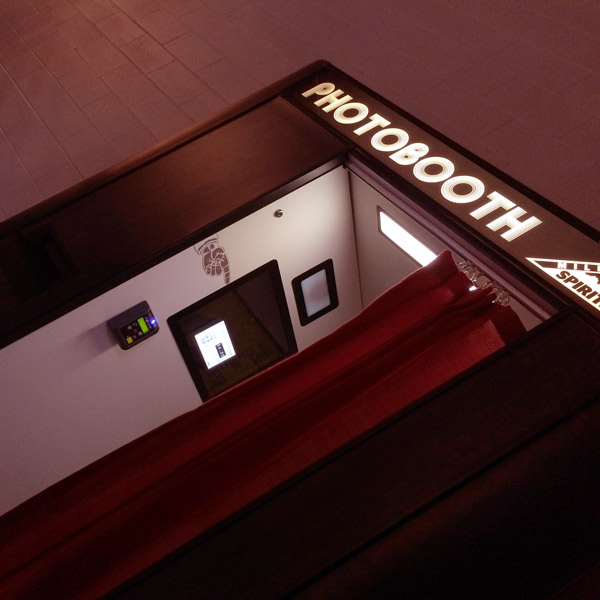 Retro photo booth conversion
The Stranger
Wrapped in a birch finish, with checkered floor, maroon backdrop, with 4 photos per strip vended and free digital copies. Tennyson's Tap is rapidly becoming one of North Denver's best small music venues and whisky bar.
Location: Tennyson's Tap, at 38th Ave & Tennyson St, Denver, CO 80212
Looking for the digital photo pickup site?
Retired Chipper Booth Rental Booth
Donna
Donna is near and dear to us. She has worked 100s of events, and we retired her into the Oriental Theater in early 2015. She is now dressed up with a checkered floor, and white custom background for The Oriental Theater. Price is $4 for two prints.
Location: The Oriental Theater, 44th & Tennyson Street
Built from sratch
The Digital Retro
Our most vintage photo booth build to date, featuring a square photo window with only red and green light indicators. It's curved roof and vintage details are inspired by the original Auto-Photo Model 14 photo booth, one of the most beautiful photo booths of the mid-20th century. Cost is $4 for two prints and digital copy.
Location: License No. 1 at the Boulderado Hotel (2115 13th Street, Boulder, CO)
Looking for the digital photo pickup site?
Retired Western Bell Phone Booth
The Condor
Inspired by the movie, Three Days of the Condor, starring Robert Redford. Repurposed stainless steel phone booth. Cost is $4 for two prints of three vertical oriented photos, plus digital copy.
Location: Local 46, at Tennyson Street and 46th Avenue, Denver CO
Looking for the digital photo pickup site?
Inspired by Jackson Pollock
The Pollock
Our first custom build resides at The Squire Lounge at Race & Colfax in Denver (1800 E. Colfax, Denver, CO) in one of Denver's oldest dive bars. It features a gold splatter paint interior, hot rod red seat and a horizontal black lined background.
Looking for the digital photo pickup site?
Custom Built from Scratch
Whole Foods Market
Yes, we built the Whole Foods Market photo booth that you see in a new store every two weeks or so. WFM was in need of a photo booth that not only took pictures and had sound, but also recorded video and allowed for in-booth social media sharing.
While we're never sure where the booth is at any given time, you can search Twitter for the hashtag #healthyselfie and see if you can find it!